Don't be afraid. This is actually going to help you…a lot.
Remember, I write these articles and make my videos for a slightly younger version of me. The fact that you may relate to these topics is pure coincidence.
I originally wrote this article as an email and the title was "When Did YOU Hand Over the James Bond Lipstick Tube of Whoop-Ass to Your Wife?"
So when I suggest you may have handed over a secret, James Bond 007 lipstick tube of whoop-ass to your wife or girlfriend – I'm talking from experience.
Take Our Attractive Husband Self Assessment Here >>
Even though the men I work with are rock stars in the domain of their chosen profession, they can't say the same when they walk through the door of their own home.
Why?
Because even though they've mastered the skills, tactics, knowledge and strategies of excelling at work…they feel like a wet noodle in the scary relationship realm of vulnerability, intimacy, marriage and sex.
They have supreme confidence in what they know and what they do.
But ONLY there.
And that's the problem.
If you only have what I call Competency Based Confidence the only time you will feel confident (aka. calm, cool, collected) is WHEN YOU'RE DOING THOSE THINGS.
This may explain why many men spend a lot of time at work. It's where they feel most comfortable – most acknowledged and most appreciated.
They get their sense of personal confidence and well-being only from what they are good at.
Hmmmm…I think you're starting to get my point.
Watch this video about the difference between Competency Based Confidence and Spiritually Based Confidence:
"Confidence is something that ought to transcend what we know and what we do." ~Barbara DeAngelis
As you heard me explain in the video, there is ANOTHER type of confidence that is entirely different from competency based confidence.
It's called spiritual confidence.
This is what you need in the areas of your life where skill, knowledge and talent don't count for much.
In the book, "Confidence: Finding It and Living It", Barbara DeAngelis does a beautiful job of explaining the OTHER type of confidence.
"Ultimately, spiritual confidence is a quiet, gentle sense of peace. It fills your heart and nurtures your spirit. It allows you to travel your path knowing that you are on the right road, and trusting that wherever you are is just where you need to be."
Do you know anyone in your life who seems to have that?
Yeah, most people don't. It's a rare type of confidence that doesn't require demonstrated talent, knowledge or authority.
It's a chosen believe system that tells you that you're actually okay…just as you are right now. You're bullet-proof to the judgments of others and their disapproval.
From this place you can't be "hurt, insulted, controlled, offended or emasculated." You're no longer a victim of external input.
You've got a chosen frame of mind or a "lane" you stay in that supports the truth about your own well-being. You're valuable, lovable and significant EVEN IF someone else is acting like you're not.
This is the secret power we all really want. It's not a tube of Whoop-Ass.
It's secret tube of mojo. Calm, cool, collected, self-assured well-being.
Kind of like this guy.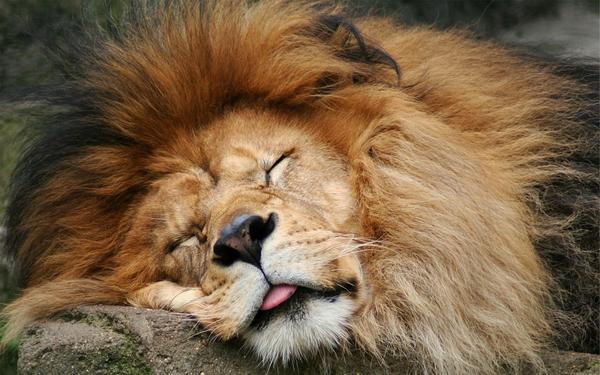 Some men reading this will get it right off the bat. Just reading the description of spiritual confidence and why it's important will cause a serious shift in their thinking which will change their life starting tonight.
Other guys (like me) need more help. And this help can only come from other initiated men who have ALREADY figured it out.
This is why we've created many ways for you to get involved in the community and start building your own foundation of confidence.
The Men's Live Coaching Roundtable is a powerful collection of men from around the world working together to transform themselves and their relationships. Dan Dore and I lead this community with 5 other professional coaches. We have live coaching video calls twice per month. The camaraderie in this group is something missing from the lives of too many men in the world.
Our online course How to Defuse the Divorce Bomb is a deep and intense dive into handling yourself when you hear, "I love you but I'm not in love with you anymore." Tim Wade and I host monthly live Q&A calls with all the students in this course which includes many other bonuses as well. Find out more here.
The MEXICO MOJO MASTERY retreat for March 2020 is now 90% full! This is an advanced retreat for men who have had one-on-one coaching or have attended other retreats.and we can't wait to meet up again in Punta Mita at the Hacienda Alegra. Click that link for some mind-blowing pics.
We still have 3 spots left for the Unapologetic Manly Confidence Retreat in the UK, April 24-27th. If you want to feel more confident, more deliberate, less edited, more open-hearted and easy going then join Dan and I for an intense shot to your system that will bring back your belief in yourself.
We love teaching men these tools – how to be better, how to know who you are, what you stand for, what you want and how to CREATE it in your life through our Masculine Confidence coaching programs.
What if this next year everything changed for you?
That's what we want for you brother.
My new book Straight Talk Tools for the Desperate Husband will help you to lead yourself and your relationship back to good health. Understand why your partner acts the way she does toward you and learn how to lead your life in the direction you want it to go. You CAN have the relationship you want, fulfilling all your desires while maintaining love and respect.
I wrote a free e-book to help men learn how to lose their fear and be more bold in their marriage to create the love and connection they want. Get The Hard to Swallow Truth About Saving Your Marriage HERE
Sign up to receive my email newsletters here for lots more free tips and advice.
You can watch all my videos here and read my blog articles here.
See what life changing results you're missing out on here.